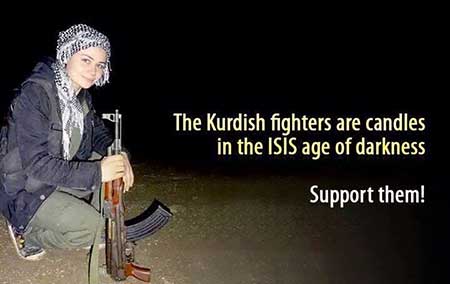 The Kurdish people are an ethnic group from the Middle East and the largest stateless nation in the world. The reasons for this are mostly political but it leaves them particularly vulnerable. Political issues are often discussed amongst the #TwitterKurds community and I hope that community will ultimately be referenced on this website and continue to grow. I however deliberately avoid politics on this website as I do not want to alienate nor delay any potential help for what is a critical human needs situation in Kurdistan. The gravity of that situation cannot be overstated now.
Kurdistan today includes south-eastern Turkey (Northern Kurdistan), northern Syria (Rojava or Western Kurdistan), northern Iraq (Southern Kurdistan), and north-western Iran (Eastern Kurdistan). The Kurdish people have suffered a long and most serious history of abuses including genocides. Arising from this indescribable suffering they have become great defenders of themselves and the wider world, including many successes against well known terror forces, rescue of victims of the Syrian War, of Yazidis, displaced persons and refugees. We all know the extent of the refugee problem at this stage and the Kurds have shown that they can handle it with minimum resources relative to needs. There is also an ongoing hostage problem for many notably the Yazidis and the world must not forget these people, must make every effort to secure their release.
The Kurds are the West's most effective partner in the war against the Islamic State. They have brought hope and stability where there was none with a value system which is democratic, humanitarian, promoting of equality, secular and tolerant of different faiths but they have completely inadequate support. Their many successes have in fact placed them increasingly at risk from forces which have very different interests and culture to theirs. I am not aware of any group of people who need and deserve our help more. They represent hope and light in a very dark place.
Their situation will require the power of the people internationally to properly rectify. Kurdistan is surrounded by powerful political forces which do not have their best interests at heart to say the least. Consequently the Kurds have been very depleted and damaged by a brutal history which only shows signs of further escalation. They have a saying "No Friends But The Mountains" and certainly amongst the powerful that is very largely true. It is in our best interests, the best interests of humanity that we support them in whatever way we feel we can. It would be no exaggeration to call it a State of Emergency.
It is an extremely cruel fact that in order to defend themselves the Kurds are resigned to a permanent state of battle and martyrdom, they are born to this and accepting of death for a cause. That cause is simply what so much of the world takes for granted, to live in a place that they can call home in peace with the basics necessary to sustain life.